As someone who likes a cool pillow I was intrigued by the popularity of buckwheat pillows in countries like Japan. I visited there a few times on business and stayed in medium quality hotels but was very impressed by the sleep I had. Nothing special about the bed it seemed but the pillow filling is definitely not the type that we get in my country.  My translator stated that it was "buckwheat" and that it was very popular over there.
So off I trundled to try and get a buckwheat pillow from the usual shops here. No chance! It seems that they are still a specialist niche here so I ordered one from an online retailer and it arrived in 2 days.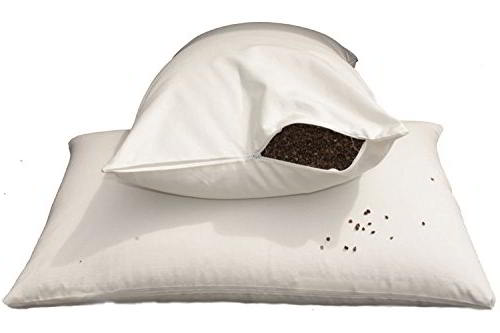 2 months on and I have to say I am very impressed.  Here are my findings:
Is the pillow hypo-allergenic?
Yes it is. Buckwheat hulls (also known as husks) are an organic product and they are often encased in a natural, unbleached Calico case so it's about as good as it gets for allergy sufferers.
Are the husks noisy or not?
I was initially concerned that the noise from the hulls rubbing together would stop me from sleeping, but in fact it is very gentle sound, you could even say 'soothing'.  The pillow is firm yet adapts to the shape of your head and you bizarrely find yourself awakening in the same position you fell asleep in. A sure testimonial to a good night's sleep! This also means that the pillow isn't noisy in use so no issues there.
Does it provide neck support?
Definitely the best pillow I have had for the support of head and neck. With other pillows I tend to sleep with my hand next to my face to prevent rolling, with this one I don't.
Is a buckwheat pillow cool in use?
I like a cool pillow. It's certainly not as cool as a Chillow or any other gel pad specifically for that purpose, but it does seem to allow air to circulate well. Unlike gel pillows though it maintains temperature rather than starting off very cold and ending up warm.
It is filled with buckwheat 'hulls' that are all various shapes and it's this that allows the air to pass freely. The pillow remains the same temperature which leads to a good night's sleep.
Can I sleep on my back or side with this pillow?
Certainly. I find that it adapts to the weight of your head but, importantly, supports the neck muscles whether lying on your back or side.
Can it relieve migraines and headaches?
I'm not a doctor! I imagine that any stress related headache would be eased by correct support while sleeping but it would be unfair to say this pillow is a 'magic bullet'.
How do I setup this buckwheat pillow?
No real setup or maintenance involved. Add your standard pillowcase and shake so the hulls are evenly distributed. Job done!
Can buckwheat pillows reduce snoring?
Most definitely. My partner now has a buckwheat pillow and there have been some reduced decibels in our bedroom at night! The better support the pillow offers, coupled with the fact it maintains temperature effectively, means that it is as good as any of the anti-snore pillows we have tried in the past.
Is the cover washable?
Yes, it has a zip for removing the hulls and it is then machine washable at 40 degrees Centigrade. We wash all of our bedding at 60 degrees and it has not been an issue for this Calico case at all.
Summary
A great purchase at a price that's not much more than a standard pillow. Trying to put a price on a good night's sleep is difficult, we have tried so many sleep aids but this remains hands down the best 'bang for your buck' that we have purchased. Buy one, put a pillowcase on it and get your best night's sleep ever!
Buy this buckwheat pillow at the best price on Amazon
Disclaimer: As an Amazon Associate I earn from qualifying purchases.