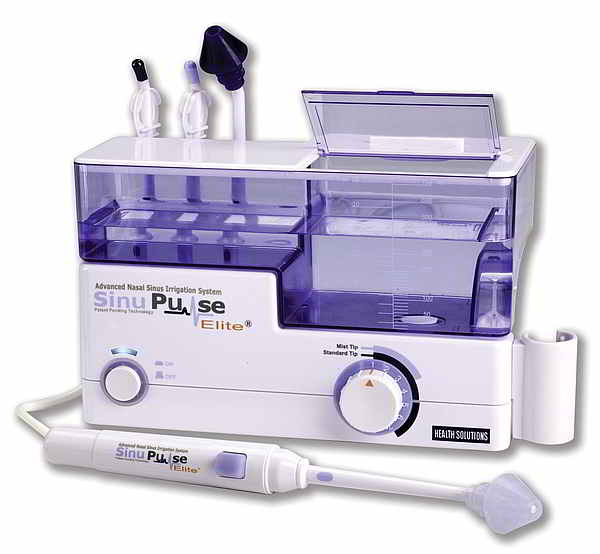 Sinusitis covers all symptoms of nasal inflammation or irritation of the sinuses cavities such as blocked or runny nose (infected mucous), sinus pain, headaches, fatigue, feeling lethargic. The SinuPulse Elite Advanced Nasal Irrigation system could provide a solution in more ways than one. It is approved by ear nose and throat specialists as it enables the sufferer to gently irrigate the sinuses in the comfort of their own home as and when nasal congestion symptoms occur, completely drug free.
The SinuPulse Elite Advanced Nasal Sinus Irrigation System has been scientifically developed to be easy and comfortable to use, providing effective relief of the symptoms of sinusitis. It works by delivering measured amounts of a saline based solution into the sinus cavities to flush out thick, viscous, infected mucus and debris caused by allergens, bacteria, pollutants such as smoke, dust, pollen and perfumes. This improves the ability of the cilia (the microscopic hairs lining the mucous membrane which move the mucous and lubricate the linings) to work properly again thus providing relief from the discomforts associated with sinusitis.  It is, in our opinion, a technical marvel.
What does the SinuPulse come with?
The SinuPulse Elite Sinus Irrigation System is powered by mains electricity. It comes complete with everything you need including measuring water tank, easy mix SinuAir sachets for the sinus rinse, a flow control system which enables the user to alter the flow rate,  flexible tip and mist spray tip attachments to vary solution delivery. The unique pulse control system delivers the solution at the rate for maximum benefit and comfort. Additional items include throat and tongue cleaning tips for use with SinuSpray or Sinumist attachments. By using the throat irrigation system included SinuPulse Elite can also be very effective in providing soothing relief for sore throats.
Benefits of the SinuPulse Elite nasal rinse system
Unlike other nasal congestion remedies this system does not involve any drugs and therefore carries minimal risk of unwanted side effects.  Users report rapid relief from nasal congestion, headaches, sinus pain and easier breathing, improved sleep, more energy, and quicker recovery times from sinusitis and common colds.   Regular use (one or two times per week) has been shown to reduce the likelihood of re-occurrence of sinusitis or other associated conditions.
Verdict
The SinuPulse is not a cheap unit but as an investment for years of proper breathing and sleep patterns it is unbeatable in what it does. It takes some getting used to at first but once into a routine there is no substitute for its effortless performance. If you can afford one then buy it straight away and use the drug-free technology to combat improper breathing, stuffiness and general nasal congestion. You'll probably not have to buy another breathing product again. I use this SinuPulse Elite nasal rinse in conjunction with breathe right strips to get quality night-time sleep.
Buy the Sinus Pulse Elite at the best price on Amazon
Disclaimer: This is an honest review of the SinuPulse Advanced Nasal Sinus Irrigation system. Neither I nor this website have received a free machine or any gift from the manufacturer in exchange for this review. I am, however, a user of the Sinus Pulse system so I'm able to comment on its effectiveness and price.